At Zillow Group we have worked hard toward a more equitable workplace for all, which is why I am extremely proud to say that we have been selected to the inaugural 2018 Bloomberg Gender-Equality Index (GEI), an index that measures gender equality across internal company statistics, employee policies, and external community support and engagement, among other areas.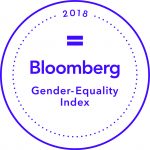 As one of only seven tech companies selected, we are proud of our policies and practices that have helped us create an environment of inclusiveness. The GEI recognized Zillow Group for:
Conducting gender-based compensation reviews
Providing 16 weeks of maternity leave and eight weeks of parental leave, and a return to work program
Adoption Assistance
Fertility Services
Unconscious Bias Training
Employee Groups for Women
Employee Protection/Whistle Blower Policy
Membership to Gender Equality Organizations (65% of 2018 GEI members are signatories to or members of organizations advocating for gender equality)
I am also pleased to announce that Zillow Group will no longer ask prospective employees about their salary history. This change in our hiring practices is, in part, a response to new laws regarding such questions during the hiring process (most recently in California on January 1, 2018). It also represents our commitment to pay equity, and includes all our offices rather than just those in jurisdictions where salary history inquiries are not permitted.
Pay equity is an important issue for all of us at Zillow Group. As a company, we invest significant resources to ensure that all employees, regardless of gender or ethnicity, are paid equally across similar positions with similar experiences. In fact, in April we announced the results of equal pay efforts with women on average earning $1.01 for every dollar a man makes. We are committed to equal pay and will measure and publish our results annually.
We are also hiring – check out jobs across our nine offices here!
About Author
Amy Bohutinsky is chief operating officer of Zillow Group, a portfolio of the largest and most vibrant real estate and home-related brands on Web and mobile, including consumer brands Zillow, Trulia, StreetEasy, HotPads, Naked Apartments and RealEstate.com.
As chief operating officer, Amy oversees Zillow Group's people organization (HR, recruiting and learning & development), as well as marketing, communications and consumer care. Amy joined Zillow pre-launch in 2005, as one of the company's earliest employees, and previously served as Chief Marketing Officer.
In addition to Zillow Group, Amy also lends her expertise on the boards of directors of Avvo, the Web's largest legal marketplace, and HotelTonight, a fast-growing mobile-based hotel booking service. Amy began her career as a broadcast journalist, working for various CBS, NBC and ABC affiliates. She earned a bachelor's degree in journalism and mass communications from Washington & Lee University.