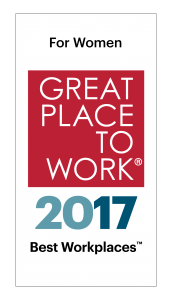 Today, Zillow Group is honored to be named one of Fortune magazine's Best Workplaces for Women. This award is especially meaningful to us because it is based entirely on feedback from our female employees.
At Zillow Group, our employees are our greatest asset. We strive to maintain a culture that is open and inclusive, and that provides all employees an equal opportunity to realize their potential and do amazing work.
We are proud to have closed the gender pay gap within Zillow Group where, on average, women earn $1.01 for every dollar a man makes in a comparable role. Our workforce is becoming increasingly diverse, with women comprising nearly 40 percent of our employees. We have continued to promote a culture that is supportive of working parents and overall work-life balance.
Though we are always working to improve in these areas, being named one of the Best Workplaces for Women reflects our continuous efforts to promote a diverse and inclusive workplace. This better equips us for our mission: To build the largest, most trusted and vibrant home-related marketplace in the world.
We're always looking for creative minds to join our team! Check out our jobs page for current openings in all our offices.