Editor's Note: Nate Moch is Group Manager, Products at Zillow. He has been at Zillow almost 9 years and has built a number of products and teams including the Zillow Mortgages and Growth teams.
Here at Zillow, we get to do a lot of cool stuff. Every year we get to drop everything for a week and work on whatever we want — we just had our seventh Hack Week in June. Usually we build tools for Zillow, but sometimes we build stuff for employee morale.
Last month I, along with my colleague Krishna Rao, were honored to take some of that Zillow creative juice to the White House.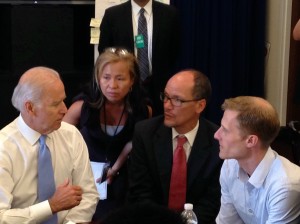 Vice President Biden, along with Secretary of Labor Tom Perez and the Office of Science and Technology Policy, hosted a diverse mix of entrepreneurs, technologists and government employees at the 21st Century Jobs Data Jam in DC last month. The goal was to take steps to help American job seekers navigate the job market.
As a technology/product guy, I have participated in my fair share of hack weeks, hackathons and hack weekends, aside from Zillow's internal Hack Week.  However, the approach the government is taking is slightly different — in a good way. Instead of filling the room with developers and rushing to get a minimum viable product built in a day, they are bringing together groups with varied backgrounds to spend time focusing on ideas and solutions. The result is a handful of teams with stated missions and product visions, who are charged with going back to their companies, recruiting others and building products that can be demoed at a future Datapoloza.
It is very encouraging to see the government take a new and innovate approach to solving complex problems. It is yet to be seen what exactly will be built from the Data Jam, but I know my team is still making progress, and we will be ready to present when the VP calls us and other technologists back to see our demo.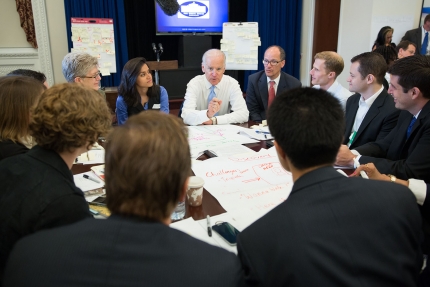 Official White House Photo by David Lienemann
I'm endlessly thrilled by the opportunities I get working at Zillow. The good news is: We're hiring! Check out our jobs page.
——–
These official White House photographs are being made available only for publication in Zillow's blog. These photographs may not be manipulated in any way and may not be used in commercial or political materials, advertisements, emails, products, promotions that in any way suggests approval or endorsement of the President, the First Family, Vice President, or the White House.