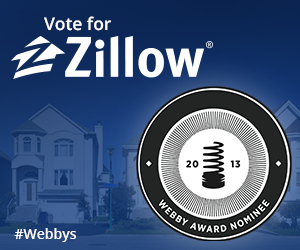 The 17th Annual Webby Awards have arrived, celebrating the Web's best sites in advertising, film, video and mobile. Zillow is honored to be nominated in both the mobile and real estate website categories. This year, Zillow is in the running for:
Last year, Zillow walked away with the Best Mobile App award. But we're always striving to be better, and we're excited to be included again this year. It's our job at Zillow to help people become smarter about real estate and mortgages by providing the best data, tools and resources for people in all stages of homeownership. It's also what we love to do!
Help us turn these nominations into wins by voting for Zillow and the Zillow Real Estate app on each ballot (links above). Voting is open and ongoing until Webby and People's Voice Award winners are announced on April 25.
Vote for Zillow today!