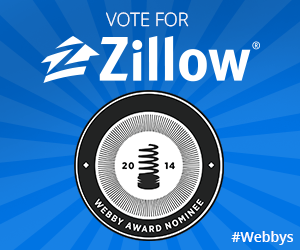 It's time for the 18th Annual Webby Awards, celebrating the best of the best in online advertising, film, video and mobile. Out of thousands of entries, Zillow is once again honored to receive two Webby nominations this year, for:
Last year, Zillow swept the Best Real Estate Website category, claiming both the Webby Award and People's Voice Award. We are excited to be included once again as we attempt to defend last year's awards.
At Zillow, it's our job to give people all the information they need to understand real estate, mortgages, and rentals by providing the best data, tools, and resources available for all stages of homeownership and renting.
You can help us turn these nominations into wins by voting for Zillow.com and the Zillow Real Estate iPad App in each category using the links above. Voting is ongoing and will remain open until the Webby and People's Voice Awards are announced on April 29, 2014.