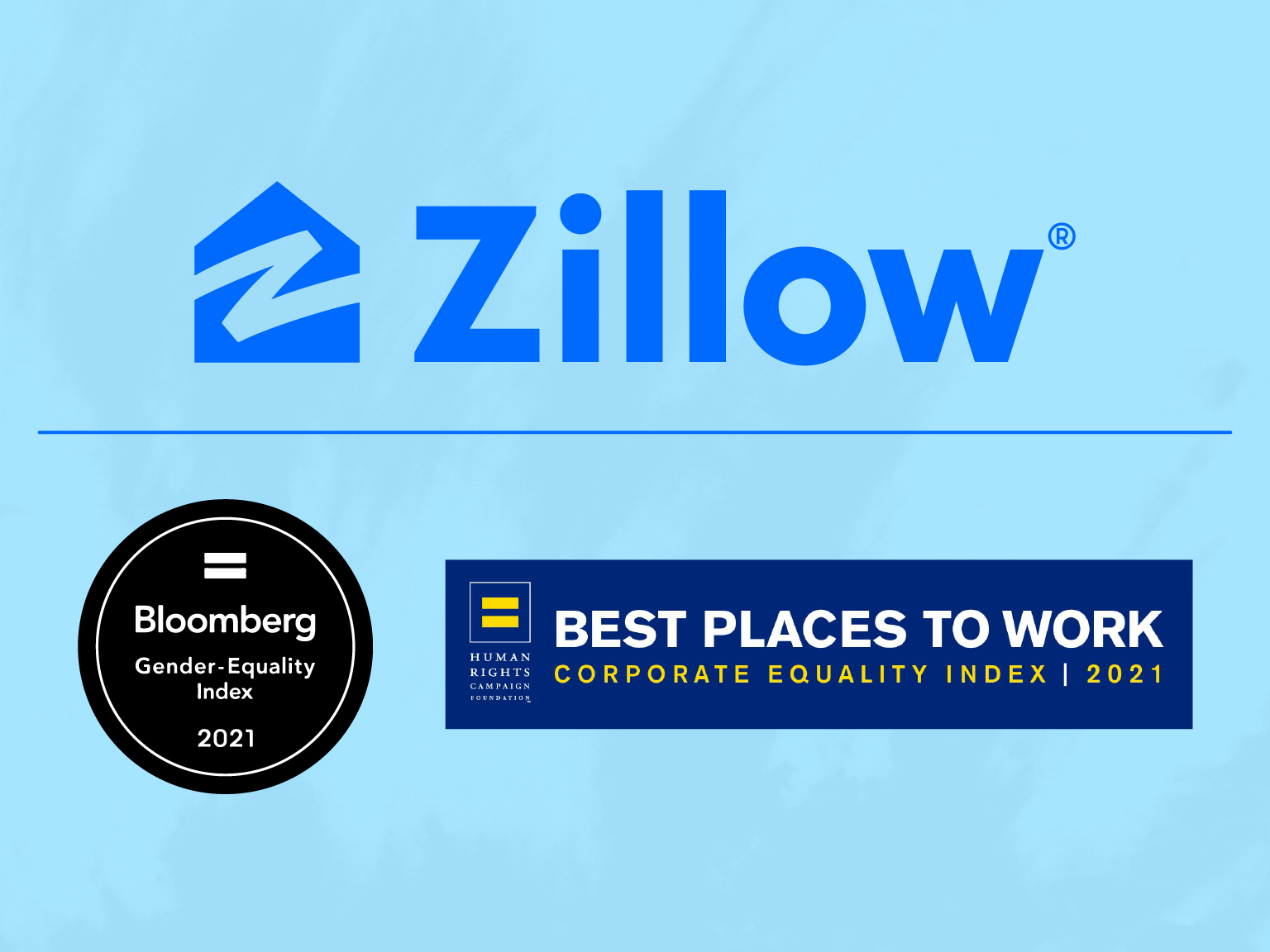 Workplace inclusivity is a founding principle at Zillow. So we're thrilled to share that both the Bloomberg Gender Equality Index and the Human Rights Campaign's Corporate Equality Index have once again given us high marks for advancing efforts to foster a workplace in which all employees thrive.
The Human Rights Campaign's Corporate Equality Index (CEI) is widely considered the nation's most authoritative benchmarking report on corporate policies and practices addressing LGBTQ+ workplace equality. Our perfect score of 100 — received for the second year in a row — not only reflects our commitment to workplace equality, but also earns us a prestigious spot on HRC's "Best Places to Work For LGBTQ Equality" list. Companies chosen for inclusion in this index must demonstrate excellence in four arenas, including equitable benefits for LGBTQ+ employees and their families, an inclusive culture, companywide non-discrimination policies and corporate social responsibility.
Separately, for the fourth consecutive year, Zillow Group joins the companies included in the Bloomberg Gender Equality Index — a roster of more than 300 businesses worldwide that exceed benchmarks for transparency in gender reporting and efforts to advance women's workplace equality. Companies selected for the GEI must satisfy criteria related to women's recruitment, retention, and advancement; gender pay parity; an inclusive culture; policies to eradicate sexual harassment; and a "pro-woman" brand.
Serious about culture
These accolades signal to present and future employees that Zillow is serious about maintaining and evolving an inclusive workplace culture, and that they can be a part of it.
"This news is massive, in my humble opinion," says Monika Zaman, an enterprise senior business consultant who joined Zillow about two years ago after researching whether it was supportive of its LGBTQ+ team members. "The thing I wanted to know, as I researched employers, was this: Will I be safe as an out person working here?"
On Zaman's first day at Zillow, she saw numerous rainbow flags — a symbol of pride and celebration for the LGBTQ+ community — on work tables and desks. She had already learned about the company's 1,100-member Pride Affinity Network, of which she is now director of member engagement. Recently, she had heard the company CEO Rich Barton introduce himself by including his pronouns, and saw that Zillow's Learning & Development department offers courses to teach allies of the LGBTQ+ community how to effectively support them.
"Zillow doesn't shy away from difficult conversations," Zaman says. "At my previous company, people were out in the office, but didn't display their pride. I can do that here."
'Doing the best work of my career'
Ask Zillow team members how they know they work at a special place and you'll hear stories about continuing education opportunities such as pronoun training, and insurance and workplace benefits of importance to LGBTQ+ team members and their families. Zillow also commits to equality within its platform and technology, recently pioneering a feature on all for-sale listings that shows LGBT Local Legal Protections information.
"It was such a relief in my job interview to hear about the company's affinity networks," says Alisha Basham, a Denver-based sales manager, who joined Zillow three and a half years ago. "In my former jobs, I felt like I was the token gay in the room a lot of the time. But starting with my interview at Zillow, I said to myself, 'I'm not going to another company where I can't be myself."
Fast-forward to the present, and Basham occasionally sits in the interviewer seat, and interviewees tell her they already know about Zillow's workplace culture. Basham says Zillow's efforts span multiple departments — from educating allies and management, to designing employee and insurance benefits coverage pertinent to LGBTQ+ people, such as in-vitro fertilization (IVF), which is of particular importance for LGBTQ+ households planning to bear children, such as Basham's.
"My doctor was shocked that our insurance covered IVF," Basham says. "She said, 'You must work at an amazing company.'"
Basham says that the company's intentionality has created an environment in which she feels fully supported.
"I've done the best work of my career at Zillow because I can be my true self," she says.
Attracting — and retaining — the best
It's also why sought-after tech talents pin their hopes on joining the company.
"It was culture and transparency that really helped me pick Zillow over three other offers on the table," says Cate Hukle, a senior applied scientist who works on financial risk analysis initiatives and also serves as director of social impact for the company's Pride Affinity Network. "At other workplaces, the policies and talk were there, but the culture didn't necessarily promote or embody them. I've been in the room and heard how leadership talks behind closed doors about their teams, but Zillow is 180 degrees away from that."
Hukle says that Zillow's approach to equity and belonging is cross-departmental and sweeping.
"Earning a high ranking on the HRC and Bloomberg indices represents a massive amount of work that's been built across multiple departments," Hukle says, noting that inclusive benefits programs and the burgeoning Pride Network are the results of years of work.
"This work is about the journey, not the destination," Hukle says. "Every success we achieve contains within it the call for the next one."

Interested in joining us? Visit our Careers page to learn more about our distributed workforce and current openings.