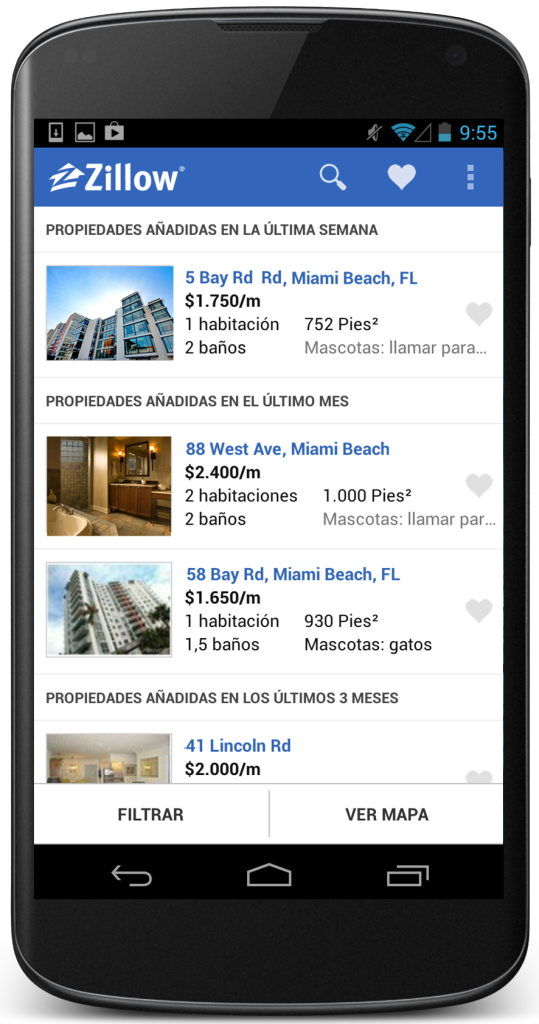 Today, we're excited to broaden the reach of Zillow Rentals apps with the release of Spanish-language support for the Zillow Rentals Android App.
(To view this story en Español please click here)
Growing at four times the pace of the national population, the Hispanic and Latino population is a key demographic participating in today's U.S. real estate market. With this update, the Zillow Rentals app is the first app from a major online real estate company optimized for Spanish speakers, providing them with mobile tools to help them quickly and easily find their next rental home in their preferred language.
Keeping in mind that renters are faced with different home shopping obstacles than buyers, needing to find and quickly shuffle through several different properties in a short amount of time, Zillow launched Zillow Rentals for Android, iPhone and iPad — a suite of dedicated rental apps designed specifically to address renters' needs. Today's rental markets are increasingly competitive, making it extremely important for all renters to have instant access to tools that can help them track the newest listings and contact landlords anytime, anywhere.
Like the English version of the app, shoppers using the Zillow Rentals app in Spanish can quickly begin their search with Android's voice search capabilities, by using GPS, by typing a specific location or by drawing one or more search boundaries on the map. Renters can further narrow their search by pet policy and, new with this release, laundry and parking preferences.
Additional renter-friendly features include search results organized by time on market and whether the home has been viewed, the ability to compare and contrast favorite homes on a side-by-side list and access to Zillow's database of more than 600,000 rental listings and unique content such as Rent Zestimates — Zillow's estimated rent prices on more than 100 million U.S. homes and apartments. Also included in this update, shoppers can choose to see their search results on Google's 3D map view.
The Zillow Rentals Android App, and its Spanish-language update, can be downloaded from the Google Play store. For Android devices, Spanish-language support can be enabled by going into "Settings" of the Android device once the updated app is downloaded and changing "Language and Keyboard" preferences to Spanish (Español). The Zillow Rentals App is also available on iPhone, iPad and iPod touch from the iTunes App Store.