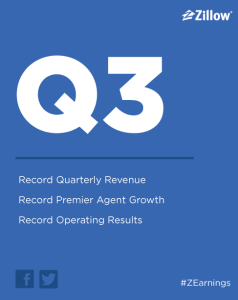 Today, Zillow is announcing results for the third quarter of 2013. It was another extremely strong quarter for Zillow that exceeded both our own expectations, and the expectations of Wall Street. You can read the full press release here, and see highlights below:
Record Revenue of $53.3 million, up 67% over third quarter 2012.
Record Marketplace Revenue of $40.9 million, up 73% over third quarter 2012.
Record quarterly and all-time traffic, with nearly 64 million monthly unique users on mobile and Web in August 2013 (up 75% year-over-year).
Premier Agent count grew 68% year-over-year, adding a record 5,942 new subscribers during the quarter.
CEO Spencer Rascoff will be hosting our third quarter conference call with Zillow CFO Chad Cohen today at 2 p.m. PT/5 p.m. ET. A link to the webcast is located in the Investor Relations section of the Zillow website, and a replay will be available after the call.
This quarter, Zillow is working with The Motley Fool, a multimedia financial services company, to broaden the reach of social media questions. Once results are made public, Fool.com will carry an interview with Rascoff.
Right after the call, Rascoff will participate in a Twitter conversation moderated by Motley Fool analysts, using the hashtag #ZEarnings.
Additionally, for the third quarter in a row, we will consider questions submitted via Twitter (using hashtag #ZEarnings) and Facebook, in addition to questions submitted by those dialed in.
Thank you to our users, our customers and our employees for all your contributions to such an excellent quarter for Zillow.