At Zillow, we love learning new things and meeting new people. As part of the Zillow Speaker Series, we invite guest speakers to share a little about themselves and answer questions from curious Zillowites. Our latest guest is a professional storyteller.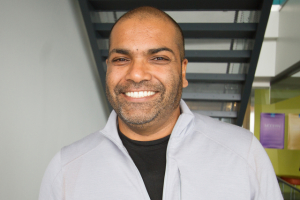 Name: Hanson Hosein
Day job(s): Director of the Communication Leadership graduate program at the University of Washington, President of HRH Media Group
How he got here: As a former NBC News war correspondent, backpack journalist and investigative producer, covering stories in Israel, Syria, Iraq, Namibia, Mozambique, South Africa, Kosovo, Turkey, Panama, Venezuela and El Salvador
Favorite new book: "Creativity, Inc." by Edwin Catmull and Amy Wallace
Life-changing moment: Reporting the embassy bombings in Nairobi on Aug. 7, 1998
What he misses: Creating meaningful content that goes "beyond junkfood snacking on Facebook status updates and check-ins"
Life advice: Admit who you are and strive to be honest all the time
Recent adventure: Roadtripping across the country to see where mom-and-pop retailers are taking on big corporations
Career tip: Think about communications as much as the bottom line
Food for thought: The most watched YouTube videos are between 30 and 120 seconds, but people still watch "Game of Thrones," which is an hour long
Memorable quote: "To tell stories, you have to be prepared to humiliate yourself first"
To hear more speakers like Hosein in person, check out Zillow's job page; we're hiring!
Photos: Adam Cohn
Recent Zillow speakers include: