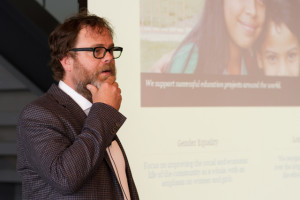 Rainn Wilson's favorite Dwight Schrute quote: "Fact: I can and do cut my own hair."
When someone walked up to Wilson at an airport during the second season of "The Office" and reeled off that bon mot, "I knew we were onto something," Wilson told hundreds of rapt Zillowites during a recent visit to the company's headquarters in Seattle. "That's a very special quote to me."
About the same time "The Office" was taking off, Wilson also started receiving requests from nonprofits of all stripes asking that he contribute to their causes.
He chose the Seattle-based Mona Foundation, partly because he loved the connection to Seattle, where he grew up, but more broadly because of its work in education.
Whether your interest is addressing poverty, the environment or a host of social ills, "uplifting and empowering young people and students is going to have the maximum impact," the actor said.
The Mona Foundation funds grassroots education initiatives around the world, from Panama to northern India to Haiti.
Wilson and his wife, writer Holiday Reinhorn, have been personally involved in Haiti, where they've taught impoverished rural girls. He teared up sharing a story about his wife asking one girl what she wanted to do in her life.
"I want to be a singer," the girl answered, and everyone who knew her was stunned. It wasn't just that they were unaware of her dreams, although in Haiti many girls are not asked about their hopes — or even their favorite colors, Wilson explained. The shock was that this girl had never spoken in school before. "It was in the asking of that question that a light was sparked, and that's what we've found through our work there," he said.
Wilson, who headlines the new crime series "Backstrom," also talked about how working to help others has enriched his life and that of his family.
"One of the things they've discovered scientifically is that… focusing on ourselves… actually makes you more unhappy, and it's working for others and in service to other people that actually boosts people's happiness," he said. "And it's true — it's kind of a conundrum, but working for the happiness of others can really be inspiring to you."
And about that hair: Having a beard helps keep him unrecognizable in the celeb-frenzied world, he said.
He also cuts his hair himself.
Want to hear a great speaker in person? Check out Zillow's job page — we're hiring!
Photos: Adam Cohn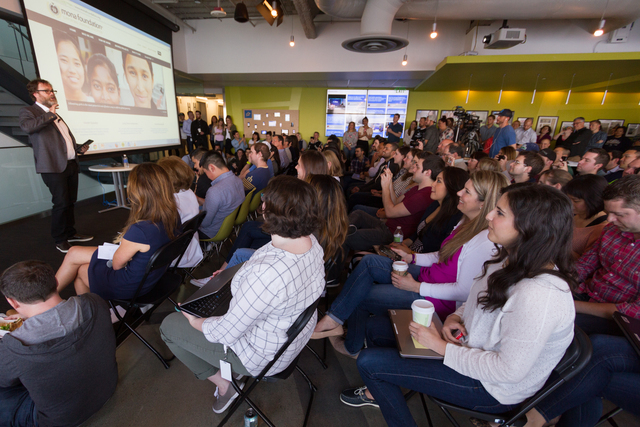 Other recent Zillow speakers include:
John Weisbarth & Zack Giffin of "Tiny House Nation"
Nathan Palmer-Royston of Theo Chocolate