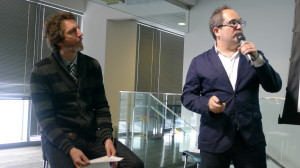 If you've seen a commercial featuring Zillow, Volkswagen, Target or Netflix, you've perhaps witnessed the advertising brainpower of Deutsch LA. The agency's creative and media directors recently spoke at Zillow about their work to help companies harness the power of brands.
"Ads are just one tiny piece of what a brand is," said Scott Hidinger, Deutsch LA's SVP creative director. "The story of a brand is so much larger."
Signs of Hidinger's creative spirit began as early as kindergarten when he carried in a briefcase full of his artwork. And now as the creative honcho at Deutsch, he has received numerous awards, including recognition from The One Club for Art & Copy, the Webby Awards and the London International Awards. He believes brands are not confined to a logo or a building, but are rooted in an idea and set of values.
"Netflix started out renting out DVDs that you would send back in the mail," he said, for example. "Their business model changed, but a strong brand can transcend any one of these elements."
Kyle Acquistapace, Deutsch LA's partner and director of media and data strategy, handles strategy more than storyboards but has also witnessed the power of brands to increase a company's value. Under his leadership, Deutsch LA's planning and analytics group has nearly tripled in size.
"We're all here to make business grow, and brand time and time again has been shown to make business grow," he said. "Thirty-three percent of shareholder value is a function of brand itself."
Hidinger says a successful brand helps people relate to companies. "They can make a hunk of aluminum seem like a treat," he said. But to make this happen, consistency is key.
Acquistapace adds that if a company with a strong brand has attracted a loyal customer base, it can tide you over during tough economic times.
"When people have less money in their pockets, they're going to go to a brand they trust and know, not a cheap place they don't already love," he explained.
Previous Zillow Speaker Series guests include: