Julep is proof that you can't judge a book by its cover. Although the company sells nail polish, it isn't just a nail polish brand.
"It's a beauty 3.0 company," Jane Park, the company's founder and CEO, said during a presentation at Zillow's Seattle office. "We believe in beauty without rules and supporting organizations that empower women."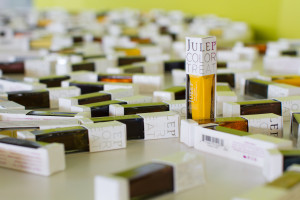 The company's approach stems from a core belief: "It's not about looking a certain way or weighing a certain amount," Park explained. "It's about connection and community."
And community is exactly what Julep is building. Taking a social approach to product development, Julep crowdsources customer feedback using Facebook, Twitter and other online channels.
"It used to be where you would go into a department store and someone would put makeup on you. Sometimes it was a good experience, but sometimes you would end up looking like a crazy clown," Park said. "What we're excited about at Julep is building a multi-billion dollar beauty brand fueled by online engagement."
So far, this social approach is working. After starting as a nail parlor in 2007, Julep is one of the world's fastest-growing beauty brands today with more than 300 new Julep-branded products launched each year. Through its Powered by Girlfriends program, Julep also donates a percentage of its proceeds to organizations that support women.
Park credits her success to trying new things and taking risks.
"Success is only a pause between huge phases of things going wrong," she said. "You are not achieving things unless you are outside of your comfort zone."
To learn more about the Julep story and Park's advice for entrepreneurs, watch the full presentation above.
To hear more great speakers like Park in person, check out Zillow's job page; we're hiring!
Previous Zillow Speaker Series guests include: