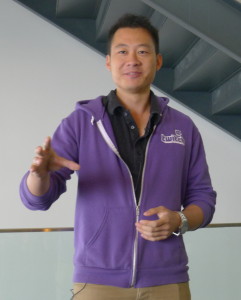 Is there an app for that? When Justin Kan asked this question in the middle of Nevada's Black Rock Desert, he meant it. The founder of Exec and Justin.tv recently stopped by Zillow's Seattle headquarters to share his story.
"I was in a van with my friends, and we were driving up to the desert," he explained. "One of my friends is very forgetful, and he forgot his ticket to Burning Man in his apartment. … That's when I thought there should be a service to call someone to get them to do whatever you want them to do in the real world — like a personal assistant service."
"We asked ourselves, 'Can we focus on one thing people are asking for and build a service for that?' The most commonly requested task is house cleaning, so we created an app for that."
Exec, a mobile and Web application for outsourcing jobs and errands in real time, was born. Kan was confident he could raise enough money to launch the app, but he was more interested in seeing if he could build something that worked and people liked.
"My goal with Exec is to solve my problems, and I don't want to do anything in the real word anymore," he explained in total seriousness. Truth be told, the rising young engineer hates talking on the phone. Kan said he hopes to make local services more accessible with Exec, bringing down the barriers and friction associated with consumption.
But not all of his innovations were so philosophical. Prior to Exec, Kan received funding for a different idea: running around L.A. with a camera on his head.
"It was called Justin Live — a live reality show. And yes, it's just as bad of an idea as it sounds," Kan said, smirking.
But it was a good enough idea to move to San Francisco and start the company — now widely recognized as Justin.tv — with his friends. And, more importantly, it served as the launching pad for a better idea: Twitch.tv.
"My co-founder [Emmett Shear] was really into video games," he said. "Out of the 30 million people coming to the site [Justin.tv], a million were watching video game content."
Twitch.tv allows gamers to watch other gamers' live streams and recorded replays. Today, it's the leading video platform and community for gamers, with more than 34 million visitors per month.
Want the chance to hear from more inspiring people in person? Check out Zillow's job page; we're hiring.
Previous Zillow Speaker Series guests include: