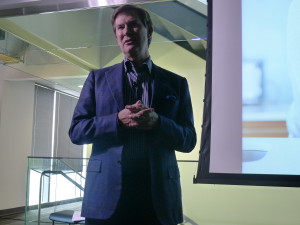 It's hard to imagine cable without HGTV. But when The E.W. Scripps Co. launched the channel 20 years ago, no one was talking about homes and gardens on television.
"We were seen as too small of a niche," explained Ken Lowe, CEO of Scripps Networks Interactive. "People said, 'Great, a network that grows grass and paints walls … how exciting.'"
But Lowe, a former architect, saw this as an opportunity. He recently stopped by Zillow's Seattle headquarters to share his company's journey to become the leader in lifestyle media, with shows such as "Man v. Food," "House Hunters" and "Design Star."
It all began in 1994 when Scripps — a newspaper, radio and TV company — ventured into uncharted territory with the launch of HGTV. From there, the company introduced a string of lifestyle channels: DIY Network, Food Network, Cooking Channel, Travel Channel and Great American Country (GAC). Then in 2008, Scripps decided to spin out the cable networks to form Scripps Networks Interactive.
Today, Scripps' channels reach viewers in 200 countries, attracting mostly upscale, highly-educated middle-aged women.
"The power of women has transformed media," Lowe said. "Cable was traditionally male-dominated, and people said, 'Why do we need a chick channel?' But they are the decision-makers in the home. …They are smart."
And perhaps this is what differentiates Scripps Networks from other lifestyle and reality TV networks — they aren't trying to do it all for everyone.
"What people are most interested in at the end of the day is the homes, the food," Lowe explained. "We said this is our niche. Sometimes the hardest thing in the world is to stay focused and not chase a lot of other things."
Check out this video to learn more about Lowe's journey to define today's leading lifestyle brands.
Want the chance to hear from more inspiring people in person? Check out Zillow's job page; we're hiring.
Previous Zillow Speaker Series guests include: