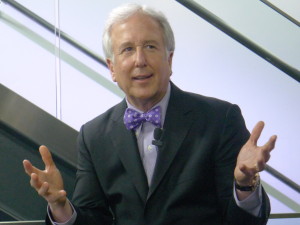 Despite having a stake in the news industry, Bloomberg L.P. started with a scientist, not a journalist.
"He had a degree from Johns Hopkins and went to Harvard Business School," Bloomberg News Editor-in-Chief Matthew Winkler explained at Zillow's Seattle headquarters.
Winkler, of course, was talking about New York City Mayor Michael Bloomberg, who founded the company after working as a general partner at Salomon Brothers in the '70s.
"He said 'Wouldn't it be great to take all the data piled high in those newspapers and put them in a computer?' The partners were very dubious about this … [but] he created the B Page, which became The Bloomberg," Winkler said.
The Bloomberg is the basis for the company's core product today: providing real-time financial information — everything from prices of stocks and bonds to currencies, securities and economic data — to financial institutions around the world. Until 1982, there was no way to know instantly whether today's security was cheap relative to every price before it. The Bloomberg made this possible.
"Relative value and transparency — that's where it begins," Winkler said. "The Bloomberg was the most important catalyst in power and influence on Wall Street with investors."
Winkler, who began his career as a journalist, joined Bloomberg L.P. in 1990. Under his direction, the company has grown to be a source for not only data and analytics, but also insight and news. In addition to more than 315,000 paid subscribers for dedicated Bloomberg terminals, the site has more than 20 million monthly visitors, Bloomberg TV is available in more than 310 million homes worldwide … and the list goes on.
"Original content and access to that content is the most important part of what we do," Winkler said. "We are totally committed to producing more, better and faster content."
Check out this video to learn more about Winkler's story and the history of Bloomberg News.
Want the chance to hear from more inspiring people in person? Check out Zillow's job page; we're hiring.
Previous Zillow Speaker Series guests include: