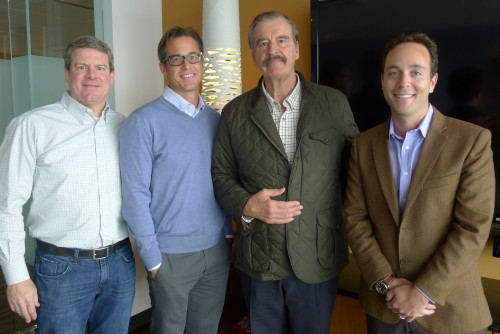 It's not every day you get a visit from a former head of state. Vicente Fox, president of Mexico from 2000 to 2006, visited Zillow's Seattle office this week as a guest speaker for the Zillow Speaker Series.
He covered a wide range of topics, including what he's gleaned from public office and the private sector. Fox started off by referencing the Seattle Seahawks' Super Bowl victory, stating they had the recipe for success: having a clear objective and working as a team.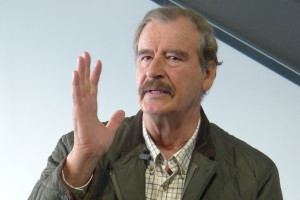 The second of nine children, Fox grew up on an 11-acre ranch in Mexico. He started his career as a truck driver for the Coca-Cola Company and worked up the ranks to supervise the company's operations in Mexico and eventually all of Latin America. While in office, Fox worked under the National Action Party (PAN) to help end corruption and improve Mexico's economy.
"I was really scared about moving into politics because all my life was in the private sector," he said. "…But I said to myself, 'It can be exactly the same.' I still have to get customer satisfaction, optimize resources and oversee quality control."
Fox believes governments today should be pragmatic, rather than ideologically driven, referencing China as a prime example.
"Religions and ideologies in political parties are not enough," he said. "Let's decide what is best for our countries this year."
When asked about U.S.-Mexico relations, the former president said migration reform and ending prohibition on drugs are top-of-mind.
"On the surface, [U.S.-Mexico relations] are always said to be great, but that's not really true," he said. "It's a visionary idea to partner to better develop our nations, but this is now a 20-year-old idea. It needs to be renewed, reinvented to make a stronger partnership."
Fox believes we're privileged because each one of us has "access to a cloud of knowledge," but if we just sit and observe that cloud, things won't happen.
"We all must work together for one purpose," he said. "That's teamwork. That's what brings success and what can serve to help bring happiness to every child and every community in the world."
See what else Fox had to say in this video:
Want to be part of more exciting speakers? Come join Zillow! Check out the openings on Zillow's job page; we're hiring!
Previous Zillow Speaker Series guests include: