Zillow was founded to bring transparency to the real estate market, empowering consumers to make smarter, more informed decisions in what is often the biggest financial decision they'll make. Selling a home can be a life-changing event for a homeowner, giving them the opportunity to tap into hard-earned equity, build financial stability and unlock a source of wealth creation for their families.
However, an emerging real estate practice has put this opportunity in jeopardy: predatory listing services.
At Zillow, we strongly believe anti-consumer practices have no place in the real estate industry. That's why Zillow has taken a stand against these services, advocating for safeguards to protect consumers.
The problem of predatory listing services
The scheme changes from state to state, but in general, companies providing these predatory listing services target cash-strapped homeowners by offering money up front — usually just a few hundred dollars. These companies offer cash in exchange for the right to exclusively list the property when the homeowner decides to sell.
These services have been known to use high-pressure sales tactics, deceptive marketing and false claims to lure unsuspecting homeowners. And it gets worse from there.
In exchange for these nominal amounts of cash, the companies have the "right to list" the property for years — in most cases, for up to 40 years. This means the company has the right to represent the seller of the property for the length of the contract and to make a commission on that future sale, regardless of whether the company actually sells the property or assigns the right to sell to another brokerage.
If the homeowner changes their mind, it is almost impossible to get out of the contract. These companies enforce the agreements with harsh liens that can cost homeowners tens of thousands of dollars to terminate. And the liens can be passed down to homeowners' heirs, robbing them of their ability to choose who will represent them. This also creates legal headaches for a homeowner if they try to refinance or get a home equity line of credit. In some cases, heirs only become aware of these agreements when they try to list the home for sale after their family member has died or relinquished the property.
Don't take just our word for it; homeowners in Ohio, Florida, Pennsylvania, Washington and all across the country have been telling their stories on how they've been harmed by these tactics.
We take our position as the pro-consumer voice in real estate seriously, and we believe there is no place for deceptive and harmful practices in real estate.
Zillow's push for state-level bans
Zillow is determined to put an end to these predatory practices, and we've been taking action to ban these types of listing services. Zillow has been actively working with more than a dozen state legislatures to pass laws that would prohibit companies from engaging in deceptive advertising and predatory listing practices.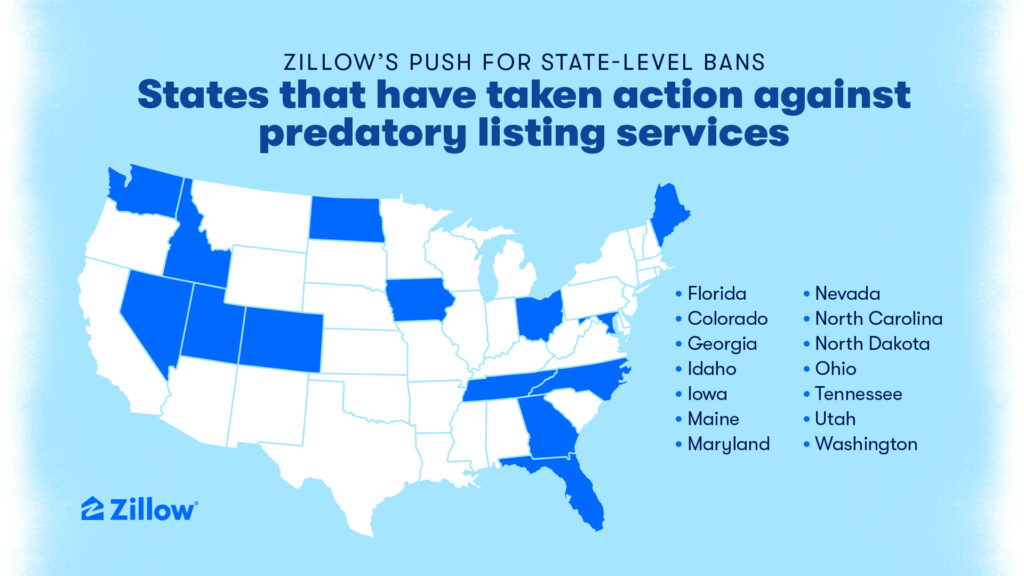 Florida became one of the first states in the country to pass a law to crack down on such practices. This landmark legislation was spearheaded by Zillow and aims to protect Florida homeowners from becoming ensnared by predatory listing companies.
More states have followed suit. Colorado, Georgia, Idaho, Iowa, Maryland, Nevada, North Dakota, Tennessee, Utah and Washington state have all passed bills to address these practices. And many more states are considering cracking down on these practices as well, including North Carolina, where we are supporting the state attorney general in both his lawsuit against one such predatory real estate company, and his efforts to pass pro-consumer protections.
How Zillow is helping consumers
Zillow's efforts to ban predatory listing services are an important step in protecting consumers and ensuring that they have access to accurate information and trustworthy resources. By supporting state-level bans that protect consumers, Zillow is taking a stand against bad actors in real estate and advocating for the interests of homeowners.
We are committed to empowering consumers with the knowledge and tools they need to make informed decisions by offering world-class products, resources and consumer advocacy.
Related: Despite recent progress, housing is still far from fair