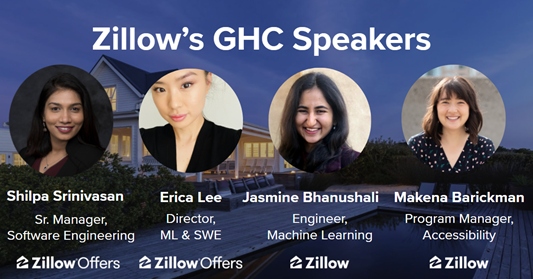 At the annual Grace Hopper Celebration, which took place virtually from Sept. 29 to Oct. 3, four women from Zillow Group shared their expertise and advice for working as effective team players, acting with resiliency and innovation in the face of unprecedented challenges, and becoming powerful women in both their personal and professional lives.
The panel discussion included Shilpa Srinivasan, senior software development manager and director of Zillow's Women in Technology Network; Jasmine Bhanushali, machine learning engineer; Makena Barickman, accessibility program manager; and Erica Lee, director of machine learning engineering and software development, board member of Zillow's Asian Pacific Islander Network, and the Founder of WomenOfAI.org.
The panelists shared that with the lasting effects of the ongoing pandemic, one of Zillow's top priorities has been maintaining the safety of its customers while still keeping the process of renting, buying or selling a home possible for them. Demonstrating one of Zillow's core values, #CustomerAreOurNorthStar, they contributed to tackling these challenges with solutions, including implementing 3D home touring nationwide, scaling the Zillow app home self-touring feature, and revamping machine learning pricing and demand models in a time of unpredictability.
The women also provided key advice in helping others advance their own careers, in ways that align with Zillow's core values.
#ZGisATeamSport
Work together, over-communicate, collaborate often — and find a workplace where that is encouraged. "Be mindful of the people you surround yourself with," says Lee, who says that Zillow feels like a family, where she can express her ideas and easily take action.
#ThinkBigMoveFast
Move fast and try new approaches. "Keep trying to move towards your goal, even if it's slow," says Bhanushali. "Not trying to do new things is a bad idea. Always challenge yourself."
#TurnOnTheLights #OwnIt
Express your ideas. You'll never know if they've been tried before, and if they have, how they panned out. Problem-solve together on these ideas. "Raise your hand, and it'll happen," says Srinivasan. "Basically, don't hide. Get out there and do it!" Barickman adds, "Ask questions and really listen; there are no dumb questions."
#IncludeAndEmpower
Shake off any 'imposter syndrome' you may be feeling. Watching a TED Talk or similar video can help. Discuss these thoughts with a trusted friend or co-worker. "We as women need to know that we're smart and good enough, and most importantly, to always love ourselves," says Lee. "Don't hold back. Go for your goals and mission in life!"
Lastly: Network, network, network! Utilize various social media platforms, starting with LinkedIn. Here's a fantastic article with resources to jumpstart networking efforts.
Zillow is hiring. If you're inspired to dream of a better future for yourself, connect with our panelists on LinkedIn, sign up for updates from our talent community, and check out current job openings at Zillow.