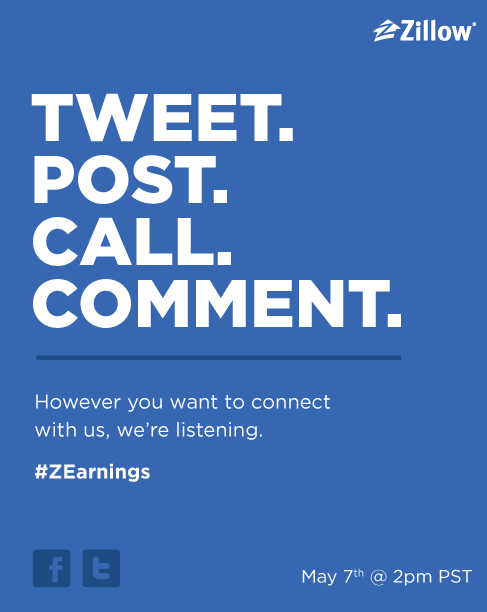 Zillow has long been a very social company. We love connecting with our users via  @zillow on Twitter, and on our Facebook page.
Now we're taking our love of all things social to our investors, as we take advantage of the Securities and Exchange Commission's April 2 announcement and designate our Twitter and Facebook accounts, as well as this blog, as channels where we can post information that may be important to investors.
Beyond that, we're excited to announce today that we're the first company planning to take questions via social media during our earnings call on May 7. Now the investor community can connect with Zillow by Tweeting questions to @zillow and using the hashtag #ZEarnings, or by posting a question on our Facebook page.
We're delighted to give investors yet another way to access our management team. While we likely won't be able to answer every question asked via social media during our call, our CEO Spencer Rascoff will try to address common themes we see in the questions, as well as specific questions. We'll also be taking questions in the traditional way, from those dialed into the earnings call.
We think this is a great opportunity to connect with current and prospective shareholders beyond the traditional call format, and we're looking forward to sharing our first quarter results in a couple of weeks.