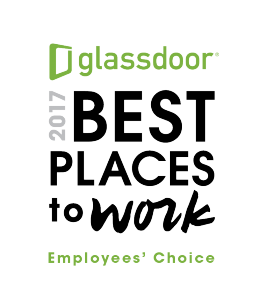 Zillow is honored to be named one of Glassdoor's Best Places to Work in the U.S. for the fourth year in a row. We are particularly proud to be recognized by Glassdoor Employees' Choice Award because it's based entirely on feedback from employees who voluntarily and anonymously posted their views on Glassdoor over the past year. This type of feedback helps us create and maintain a transparent workplace culture in which all employees feel empowered and motivated to do their best work every single day.
Zillow employees have praised the company for our great work/life balance, collaborative environment and a transparent leadership team. Here are a few examples of feedback shared on Glassdoor that contributed to winning this award:
"Although Zillow is a large company, we still get plenty of opportunities to work with cutting-edge technology. There are hardly days where I feel like my team is stagnated or that I feel like technology is leaving us behind. The teams here aren't scared to work with bleeding-edge tech, and making mistakes or failing big is a part of the culture, not something frowned upon." – Senior Software Development Engineer, Irvine

"Great benefits. Everyone from the executive team down is hyper-invested in employees. Zillow is changing real estate and we get to be a part of that! I love coming to work!" – Sales Executive

"Phenomenal people, culture, and values. Great work-life balance makes people work harder and love being at the office. Everyone is friends with one another and is involved in the community as well. Great core competencies, and DTO is awesome!" – Financial Analyst, Seattle

"Zillow has the best atmosphere I have ever experienced at a job… I hope to continue my career at Zillow for years to come." – Account Specialist, Denver

"They practice what they preach – their core values. They value being transparent in all levels of the Zillow team – inter-departmental. Although there are directors/manager/leads, there is no real sense of hierarchy, and everyone is willing to lend a hand. We all work hard, and play hard." – Seattle, WA
Additional highlights of Zillow's Glassdoor ratings include:
96 percent of Zillow employees surveyed approve of Zillow Group CEO Spencer Rascoff
83 percent of employees would recommend working at Zillow to a friend
74 percent of employees expressed a positive business outlook for the company
Zillow's benefits, including parental leave, health insurance and discretionary time off, received an average rating of 4.6 out of 5 stars
Employees gave Zillow Group's culture and values the highest rating, with compensation/benefits, work-life balance and senior management also receiving high recognition
To hear more about what it's like to work at Zillow Group, check out this video!
Sound like fun? We are always looking for talented people to share their ideas and create the next big thing. Learn more on our jobs page!