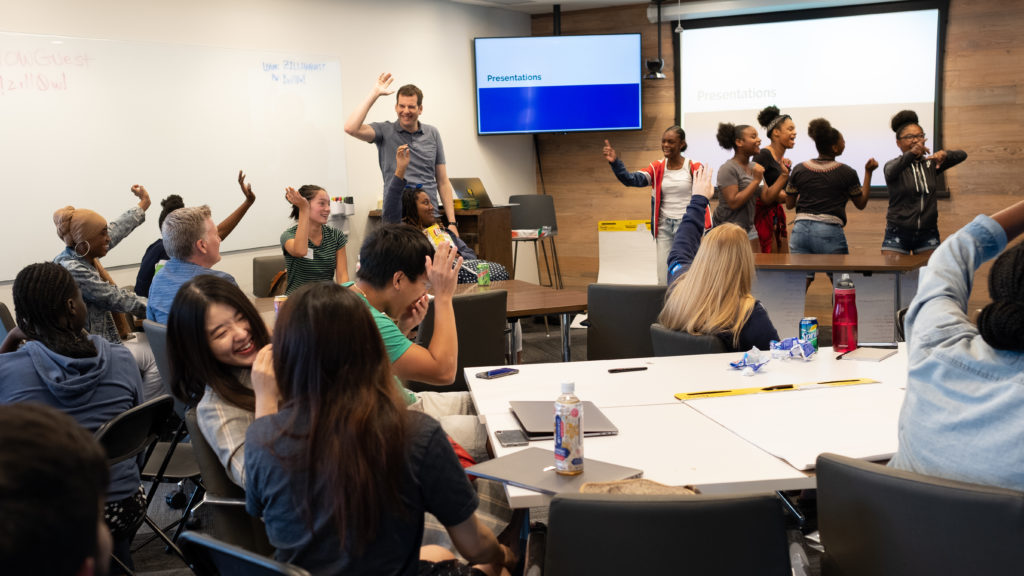 Zillow hosted 30 high school students on July 13 for our first-ever Shadow a Zillow Intern Day. We welcomed students participating with three partner organizations: TAF Academy, Seattle Housing Authority, and the YWCA GirlsFirst Program.
Giving back to the community where we live and work is an important part of who we are here at Zillow Group. As a leader in our industry, we also know we need to invest in our pipeline of talent for the future. What better way is there to support our community and cultivate tomorrow's workforce than to invite eager high school students to come see us in action?
DAY OF INSPIRATION AND CONNECTION
The day's activities were designed to introduce students to Zillow and inspire them to attend college and create career paths for themselves by showcasing a variety of jobs that require different education pathways and connect these careers to what students are learning right now.
Each visiting student was paired up with a Zillow intern who participated in the day right alongside them. Most of our interns are currently in college or recent graduates, so these pairings enabled high school students to gain perspective on not only what it's like to work here, but also what it's like to go to college and how they can prepare.
"YWCA GirlsFirst loved everything: the offices, the space, the food, the swag bags, etc. The girls were especially happy that they got to experience what it was like to actually be an intern at Zillow and felt that hands on activities gave them a feeling of belonging." –Shabazz Abdulkadir, Coordinator, YWCA GirlsFirst
OFFICE TOURS + CAREER PANEL AWESOMENESS
We kicked things off with tours, and students visited different departments to ask questions and learn about the wide variety of positions at Zillow—from communications and storytelling, to data analytics and economics, to product development and design, and more.
"You guys really knocked it out of the ballpark. The tour made me want to work at Zillow!" -Anne Keeney, JobLink Administrator, Seattle Housing Authority
An all-star panel of ZG employees then shared their own personal career stories, along with solid advice for how to find a job, such as developing connections in the industries you're interested in so your resume gets "closer to the top of the pile."
HANDS-ON PRODUCT DEVELOPMENT AND WEB DESIGN SESSIONS
After lunch, students spent the afternoon getting their hands and minds busy creating in two interactive sessions. Together with Zillow employees, they developed new home products, starting with idea development, to prototype creation, and finally preparing a three-minute commercial. They also got a lesson in HTML, working with ZG interns to build a webpage for their product.
"One of the best hands-on experiences a company has put on. That was incredible and my kids want to come back." –Shaunt'e Nance-Johnson, Career Readiness Program Manager, Technology Access Foundation (TAF)
GRATITUDE FROM STUDENTS (E.G. "FUTURE EMPLOYEES")
We rounded out the day with a debrief, a chance to reflect and discuss what was learned, and of course, some great Zillow Group swag!
We heard a lot of positive feedback about the experience, the views from our offices, the candy wall, and most rewarding of all, "I definitely want to work here one day."