A little more than a year after the 1968 Fair Housing Act was passed, the first brick was thrown outside the Stonewall Inn in New York City, opening the door for the LGBTQIA+ movement and Pride events and celebrations as we know them today.
While a lot of progress has been made since Stonewall, members of the LGBTQIA+ community continue to face discrimination and prejudice, denial of civil and human rights, harassment, family rejection and increasingly harmful anti-LGBTQIA+ legislative efforts. So far in this year alone, the ACLU is tracking nearly 500 anti-LGBTQIA+ bills and laws in states across the country, some of which directly target LGBTQIA+ individuals' ability to search for and secure housing without discrimination and erasure — a disturbing trend has been snowballing since 2018.
Current fair housing laws don't go far enough
Fair housing laws play a crucial role in protecting the rights of the LGBTQIA+ community and ensuring equal access to housing opportunities. However, federal protections for LGBTQIA+ housing rights are not codified law.
President Biden's 2021 Executive Order preventing and combating discrimination on the basis of gender identity and sexual orientation provided more cover for LGBTQIA+ housing rights than ever before. In February 2021, the Department of Housing and Urban Development (HUD) — the agency that enforces the Fair Housing Act — vowed to enforce the act on the basis of sexual orientation and gender identity, but these rights are not guaranteed; executive actions can be overturned by a new administration.
A patchwork of cities and just 23 states offer explicit fair housing protections based on sexual orientation and gender identity. According to Zillow research, many of the jurisdictions that provide LGBT housing protections are more expensive places in which to buy or rent a home — approximately 63% more than areas without local legal protections. That means LGBTQIA+ individuals who can't afford to live in those places must rely on federal enforcement. To help LGBTQIA+ people and their allies more easily identify which homes are in jurisdictions that offer protections, Zillow has developed an LGBT Local Legal Protections tool, which adds information on LGBTQIA+ housing, employment and public accommodation laws to all Zillow home listings across the nation.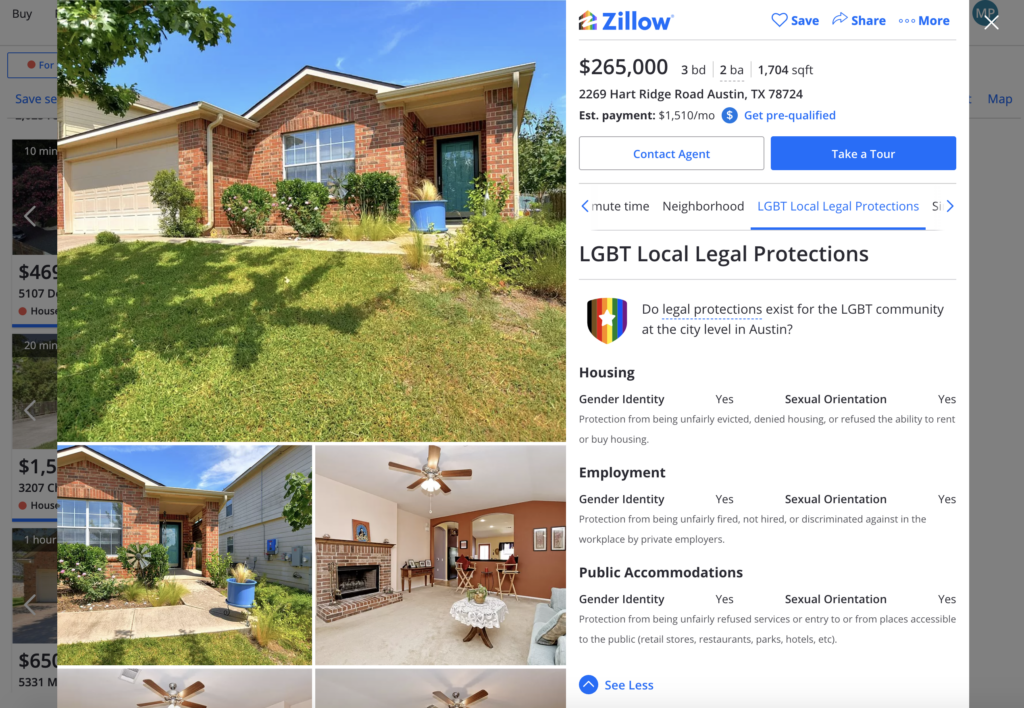 Advocating fair housing for all
Zillow is committed to advancing policies and practices that support fair housing for all people. We have a history of directly advocating for the LGBTQIA+ community at both state and national levels, and continue to work in coalition with the Human Rights Campaign and other corporations toward the passage of the Equality Act, which would ensure that the LGBTQIA+ community doesn't face discrimination as it relates to housing and lending.
Black and brown transgender women led the protests at Stonewall, and to this day, individuals in this community face some of the biggest barriers to housing. The National Center for Transgender Equality estimates that 1 in 5 transgender people in the U.S. has faced discrimination while searching and securing a home. Zillow Research found that many of the challenges confronting LGBTQIA+ households, including a higher likelihood of application fees and security deposits for renters and mortgage loan applications being denied to potential buyers, are even more extreme for LGBTQIA+ buyers and renters of color. To help reduce this burden, we have introduced a universal rental application, allowing prospective renters to submit an unlimited number of applications over a 30-day period for a flat fee.
Empowering our employee community
The work to include LGBTQIA+ legal protections on Zillow listings began as a grassroots effort by members of Zillow's Pride employee affinity network, our largest and most active affinity network. Nearly 20% of Zillow employees are members. The group is making allyship a major focus of its Pride month activities this year, promoting classes available to Zillow employees as well as information on how to become an active ally.
Our commitment to supporting our LGBTQIA+ employee community is unwavering. Zillow is listed on two of the nation's most prestigious workplace equality indexes: Bloomberg's 2023 Gender-Equality Index and the Human Rights Campaign Foundation's Corporate Equality Index. Both indexes gave Zillow high marks for policies and benefits that ensure equality for employees, fostering a workplace in which all employees can thrive.
To support our LGBTQIA+ employees, we offer health benefits that cover a wide range of gender-affirming health care services — whether patient-elected, medically necessary, or both. Last year, we expanded our medical plans to include reimbursement for travel expenses for covered employees and family members who need to travel for access to health care services, including abortions, gender-affirming care and other non-life-threatening care. Last fall, Zillow Group launched Included Health's LGBTQIA+ Care, a comprehensive navigation service for employees and their families in the LGBTQIA+ community. Zillow provided this benefit at no cost to Zillow employees and their medically enrolled families.
Zillow employees can also participate in a Zillow for Good giving opportunity benefiting two nonprofits: National Center for Transgender Equality and True Colors United, which focus on the safety, representation and wellness of the LGBTQIA+ community. This giving campaign is driven by our employees who want to make an impactful connection in their communities.
At Zillow, we know that everyone deserves a safe and affordable place to call home — and a safe and productive work environment that is free from discrimination. We will continue to fight against housing discrimination by providing research and advocacy that drive positive change, and nurturing a vibrant, safe and equitable environment for our employees.
Related:
Zillow's Pride network on the crucial need for active allyship
PFLAG tips on how to be an ally