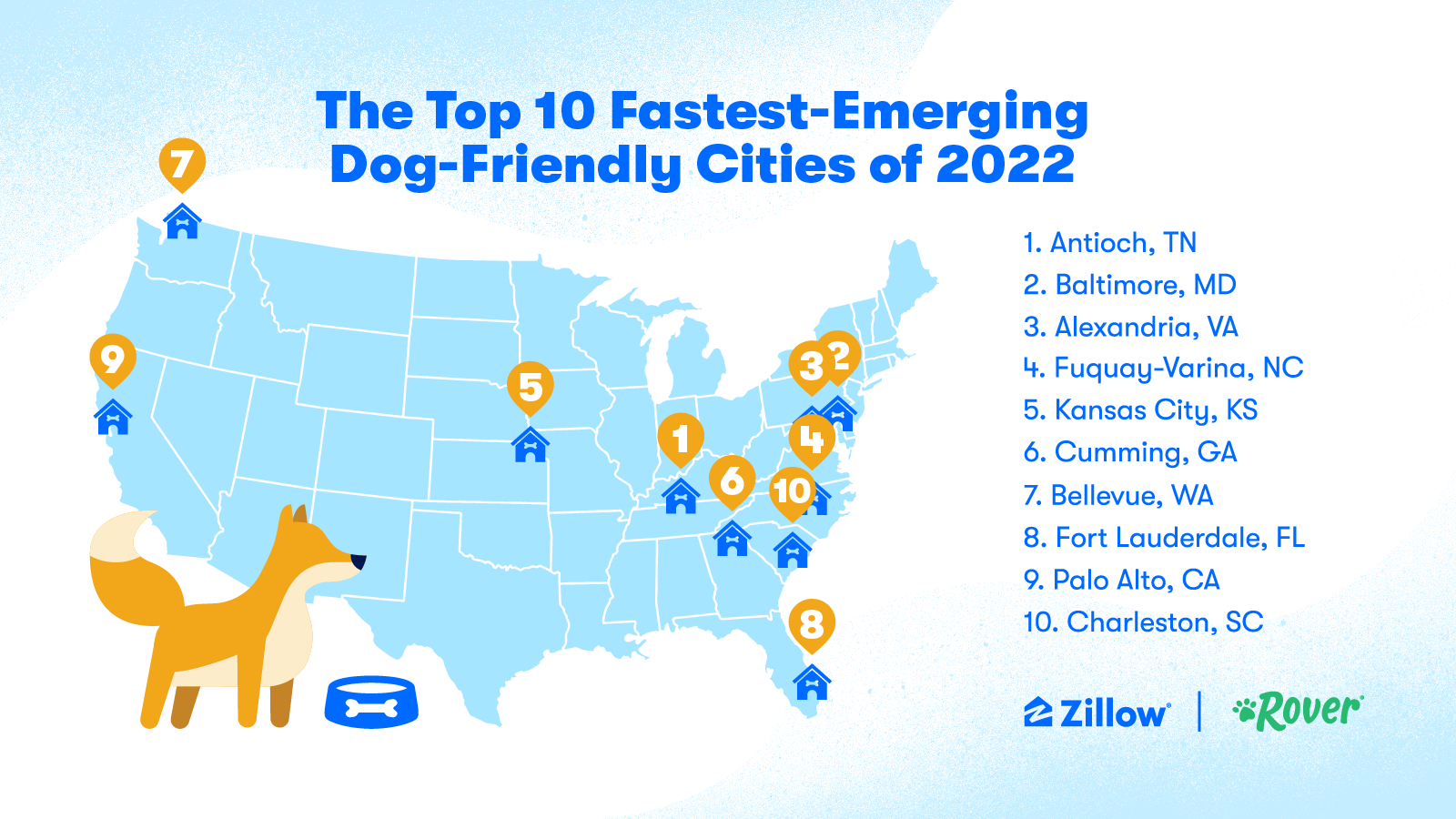 A new survey has found that 72% of dog parents find it important to live in a dog-friendly city that has plenty of other dog owners, dog parks and pet-friendly home rentals. About 61% credit their furry friend's happiness and well-being as inspiration to move.
In a recent joint analysis, Zillow and Rover used registered dog-owner accounts from Rover's database of millions of pet profiles, together with Zillow page views of pet-friendly single-family home rental listings, to pinpoint up-and-coming dog-friendly cities.
If you're looking for some relocation inspiration for you and your dog, check out the top 10 fastest-emerging dog-friendly cities in the U.S., listed below.
10. Charleston, South Carolina
This charming Colonial town known for its outdoor flea markets and horse-drawn buggies can now also be linked to dog-loving residents. Charleston County Parks features four official dog areas that include plenty of room to run, swim and play. Pet-friendly single-family home rental listings saw a 22% spike in average daily page views in the area. The typical rent in the Charleston metro has also risen 21% since 2020, to about $1,800.* Use Zillow's rent affordability calculator to determine what works for your budget.
9. Palo Alto, California
Serving as the heart of Silicon Valley and situated just south of bustling San Francisco, Palo Alto offers a reprieve from the city and a haven for the pups. Grab some grub at one of its many dog-friendly restaurants or wander along the bay trails. It's no wonder this city saw average daily page views of pet-friendly single-family home rental listings on Zillow spike 75.7% compared to last year. Palo Alto also experienced a sharp rise in rental prices, which is happening all over the country.
8. Fort Lauderdale, Florida
If you've adopted a "good boy!" who loves the beach, Fort Lauderdale has you covered. The city has set aside 100 yards of waterfront for you and your furry family members to enjoy. There's also a freshwater swimming area for dogs that's sure to keep them cool under the hot Florida sun. To make finding a pet-friendly rental easier, you can filter listings by "Allows small dogs" and "Allows large dogs."
7. Bellevue, Washington
If you are looking for a Pacific Northwest puppy paradise, consider Bellevue. With easy access to North Cascades National Park, you'll never run out of trails to explore. Or, if you'd rather stay close to home, you can try one of the "pupular" off-leash areas located throughout the city. For those considering renting a home here, the median rental price in the Seattle area is up 17.1% since March 2021. For those considering buying a home here, you can use a mortgage calculator to start determining your ideal budget.
6. Cumming, Georgia
Rover saw a large increase in new dog owner accounts in this small Georgia town. More U.S. renters now report owning at least one pet, compared to 2020. Like recent movers on the whole, renters appear to be seeking out more space and relative affordability in places where they can get a fenced backyard or room for a doghouse. For renters looking to take advantage of this hot pet-friendly market, they can fill out a renter profile to help stand out to landlords.
5. Kansas City, Kansas
With a typical monthly rental cost of about $1,300, the Kansas City metro may offer a more affordable alternative to pet parents, and we've seen a surge on the Kansas side, especially. Zillow research shows 61% of recent U.S. homeowners and 57% of renters are pet owners, meaning this city has a lot of potential for more than half of U.S. households.
4. Fuquay-Varina, North Carolina
Zillow saw an annual increase in average daily page views of pet-friendly single-family home rental listings of 11.4% for this town. It's clear it's a place for pet lovers. The town has even shared its love for dogs on its social media pages.
3. Alexandria, Virginia
It seems that more dog owners are sniffing out Alexandria. Its average daily page views of pet-friendly single-family home rental listings on Zillow are up 70.1% over last year. This D.C. commuter town is home to several dog runs, off-leash areas and plenty of family-owned pet supply stores. Take a look at rentals currently listed on Zillow and you just may find your dog's next home here.
2. Baltimore, Maryland
Less than 50 miles away from Alexandria, Baltimore comes in as the second-fastest emerging city for dog owners. This year, Zillow saw a 99.3% annual increase in average daily page views of pet-friendly single-family home rental listings for Baltimore. If you'd like to join the pack, check out our renters guide for helpful tips and information on how to get started.
1. Antioch, Tennessee
Anchored by Antioch Park, this town took the top spot largely because out of all cities analyzed, it saw the largest annual increase in new Rover dog accounts. The city also had a significant increase in Zillow page view traffic to listings for pet-friendly single-family rental units, up 62.2% from last year. No matter when or where you're ready to move, you can use Zillow to find, tour and apply for you and your furry companion's new home.
*All rental price data calculated as of March 2022
Related content:
Five tips to help home buyers win in this hot seller's market
Why all Zillow listings include LGBT fair housing information
Zillow's 2021 Mover Report: The opportunity, emotion and trends behind the Great Reshuffling