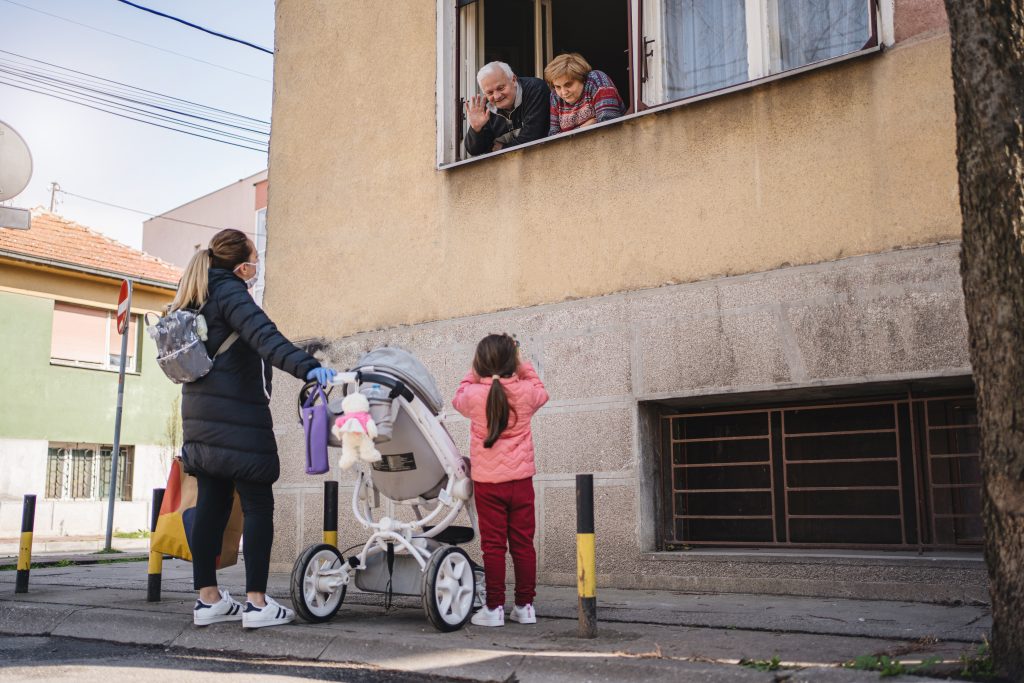 As for many of us, Leone Jose Bicchieri's living room has become his office; his two children his co-workers. He leads Working Family Solidarity, a labor rights organization that primarily represents black and Latinx workers on jobs and housing issues in Chicago. "My people have 200 bucks in the bank — if they have a bank account at all," he says.
These days, Bicchieri is on his phone constantly, texting and talking with members who are out of work and out of money. "We're getting plenty of people calling us, not knowing what to do," he says. "They're crying. They're desperate."
"COVID-19 has not created the gross inequalities, it's exposing them."

Leone Jose Bicchieri
More than 22 million Americans have filed unemployment insurance claims over the past four weeks, including many in the food, arts and retail industries. A new Zillow® analysis shows Latinx, Asian and black workers are disproportionately represented in these jobs compared to white workers. Nationwide, 8.3% of white workers are employed in these industries, compared with 12.7% of Latinx workers, 10.2% of Asian workers and 10.1% of black workers.
The fallout from job losses is compounded among non-white households because they typically have less money to save after paying the rent. An income shock can push these families into housing insecurity. "COVID-19 has not created the gross inequalities," says Bicchieri, "it's exposing them."
RISING RENT BURDENS
Bicchieri says the main thing he's hearing from members is that they need money for rent. Zillow economists looked at households where the majority of income came from either the food, arts or retail industries — industries not only adversely impacted by shelter-in-place orders, but also among those most unlikely to offer paid leave.
In Chicago, where infection rates have been particularly devastating for the black population, black households relying on wages from these industries typically pay 30% of their income on rent — right at the top of recommended guidelines on how much to pay for housing — leaving $18,000 of their income left per year after rent. Losing two months of pay pushes the share of remaining income spent on rent to 35%, with $14,000 leftover for other expenses. For black households in Chicago, four months without pay puts their rent burden at 42%, with a scant $10,000 left for other living expenses for the year — or roughly $830 per month to cover food, gas, household bills and other essentials.
Illinois has instituted an eviction moratorium. Bicchieri says he tries to explain that this means his clients don't have to pay rent if they can't afford to. But he says it's a hard sell. "We often hear from folks who say 'I don't trust my landlord,' or 'the building manager will come around and make life miserable if I don't pay.' We tell them to talk to their landlord, pay what they can, but use their money to hunker down, buy groceries and stay home."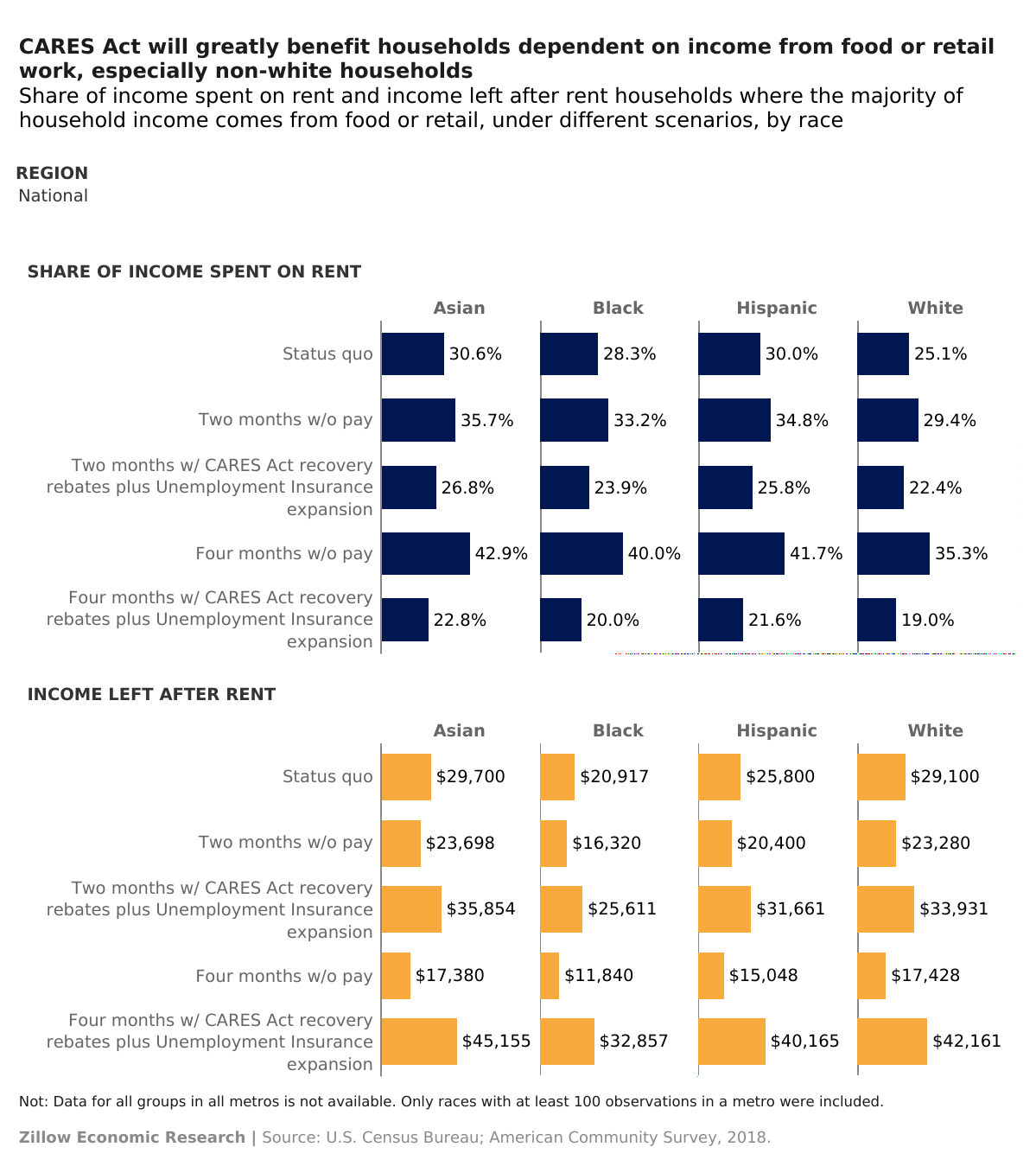 AID WILL HELP IN THE SHORT TERM
For many, state and federal unemployment benefits will cushion the blow of layoffs. The CARES Act kicks in an additional $600 a week through the end of July for those who qualify. The Zillow analysis shows with this infusion of cash, rent burdens actually become lower than if wages hadn't been lost at all. Black and Latinx people who go four months without work but receive direct payments from the CARES Act and state and federal unemployment assistance would see their rent burdens drop to 20% and 22% respectively.
Zillow senior principal economist Skylar Olsen says the analysis "highlights the financial tightrope many households walk in our vital service industries." She says "it's encouraging that many who receive government assistance appear to be on solid footing for a few months."
But what about workers who don't qualify for these benefits because, while their hours have been cut, they haven't been laid off? Bicchieri says he's seeing people with smaller paychecks due to COVID-19 choose work over safety.
"Maybe this crisis can help folks understand that poor and moderate-income families are vulnerable," he says. "But if they are stable in terms of income and can stay inside, we're all safer from the virus."
Do you qualify for CARES Act unemployment benefits? Contact your state's unemployment insurance program to determine if you qualify.