For Second Year, Zillow Group Named to Bloomberg Gender-Equality Index
At Zillow Group, we believe strongly that embracing a diverse workforce not only enhances Zillow Group's workplace culture, but also is key to our success as a company. That is why, today, we are pleased to announce that for the second consecutive year, we have been selected for the Bloomberg Gender-Equality Index (GEI). The Bloomberg GEI is composed of companies that have scored above a globally established threshold designed to encourage disclosure and reward companies committed to transparency in gender reporting and advancing women's equality.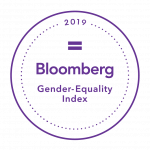 We are proud of policies and practices that help build and maintain a culture of equality and belonging. We credit our inclusion on the list in part to:
Having women in leadership roles — on our board and in our company
Conducting gender-based compensation reviews
Offering generous parental leave — 16 weeks for delivering parents and eight weeks for non-delivering parents
Providing family care services, backup child care and adoption assistance
Having a team dedicated to the diversity of Zillow Group
Having a women's employee resource group for those who identify as women and their allies
Maintaining an employee protection/whistle blower policy
Our work in equity and belonging requires an ongoing and evolving commitment, which means there is no "mission accomplished." We look forward to continuing our commitment.